Shingeki no Bahamut Manaria Friends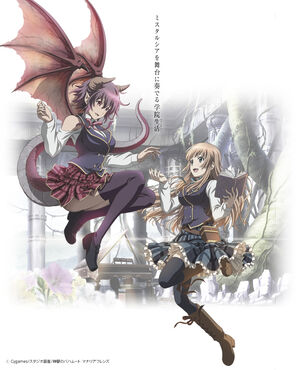 Information
Title:
- Shingeki no Bahamut Manaria Friends

- Rage of Bahamut Manaria Friends

Animation Work:
Studio Hibari (Originally)[1]
Genre:

Adventure / Demons / Fantasy
Shingeki no Bahamut Manaria Friends (神撃のバハムート マナリアフレンズ, Shingeki no Bahamūto Manaria Furenzu), also known as Rage of Bahamut Manaria Friends is an anime series originally meant to be produced by Studio Hibari and based on the Manaria Friends event, "Mysteria Academy" or "Manaria Mahō Gakuin" from the online card game, Shingeki no Bahamut by Cygames. The adaptation was announced by Cygames in August 2015. Although being an adaptation of the card game like Shingeki no Bahamut Genesis and Shingeki no Bahamut Virgin Soul, Manaria Friends is unrelated to those two previous works.
Original Work: Cygames
Direction: Takafumi Hoshikawa (Originally, removed)[1]
Character Design: Megumi Ishihara (Originally, removed)[1]
Chief Animation Direction: Megumi Ishihara (Originally, removed)[1]
Art Director: Kenichi Kurata (Originally, removed)[1]
Music: Takashi Watanabe (Originally, removed)[1]
Animation Work: Studio Hibari (Originally, removed)[1]
References
Edit
↑ 1.0 1.1 1.2 1.3 1.4 1.5 1.6 Rage of Bahamut: Manaria Friends Anime Announces Indefinite Delay, Removes Staff Listing
External links
Edit
Ad blocker interference detected!
Wikia is a free-to-use site that makes money from advertising. We have a modified experience for viewers using ad blockers

Wikia is not accessible if you've made further modifications. Remove the custom ad blocker rule(s) and the page will load as expected.